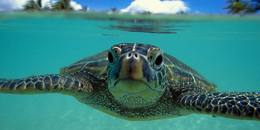 Tours:
Many of the tours listed above can be arranged through Adventure in Hawaii, contact them directly at 1-877-678-7333 or visit their website http://adventureinhawaii.com/bigisland.htm
Concierge at Mauna Lani – 808-881-7911
Beaches:
The Big Island is blessed with some of the worlds best beaches. Here are a few of the beaches closest to Mauna Lani Resort.
Spencer Beach – Spencer Beach is popular with local families because of its reef-protected, gently sloping white-sand beach, and it's safe for swimming year-round. Calm, protected bay ideal for families and snorkelers. Snorkel with the sea turtles here!
Mauna Kea Beach – Mauna Kea Beach, also known as Kauna'oa Beach is a perfect crescent beach of white sand surrounded by shady trees and beautifully manicured landscaping provided by the Mauna Kea Resort. On a clear day, you can see the majestic volcano of Mauna Kea to the South. The beach is long and there is plenty of room to spread out. The ultra-fine white sand stretches far into the water making water entry easy. The waters are incredibly clear and inviting. This cove is protected and a wonderful place to swim and snorkel. The beach is one of the most beautiful on the island and a great place to rest, relax, or just walk around; this is a perfect family beach.
Hapuna Beach – Hapuna Beach is probably the most famous beach on the Big Island, and regularly voted one of the prettiest beaches in the world. In Big Island standards, it's also one of the largest beaches on the island. The shore has a sandy bottom, and the sand shelf extends a good ways out. The shallow shore is great for kids, but keep an eye on the waves. You'll often see many people here body boarding and body surfing. The beach is manned by lifeguards, and they will post markers that indicate the condition of the water and waves.
ALI'I DRIVE - http://www.hale-hoola.com/Alii-Drive.htm
Experience Culture, Shopping and Beaches in One Place
Explore Ali'i Drive
Ali'i Drive is a scenic waterfront panorama, nestled between rows of souvenir and curio shops, sidewalk cafes, and a long lava rock sea wall. Take the time and explore Ali'i Drive. You could visit Kailua-Kona a dozen times and find something new, tucked-away along this sea-side lane. Watch the boats and fishermen at the Kailua pier. Take a walk along the sea wall, keeping an eye out for crabs, fish, sea turtles, and breaking waves. There are shady lawns along the sea wall to watch the marvelous Kona sunsets. Walk down the seaside lane and feel the lure of tempting aromas coming from the many charming open air street-side restaurants. Dining outdoors while watching the beautiful Pacific sunset is commonplace, and always spectacular.
Kona Shopping
There are plenty of shops along Ali'i Drive for your visit to Kona. The Kona Inn Shopping Village on the waterfront has over 65 shops including gift shops, Hawaiian specialty stores, art galleries and some excellent restaurants. Outdoor markets are local and tourist favorites because they have a wide variety of items from fresh produce to fresh Hawaiian flowers to souvenirs and tourist trinkets. Most are located along the southern part of Ali'i Drive and are open from 9AM to 9PM daily.
One great outdoor market located right on Ali'i Drive is Ali'i Gardens Marketplace, which has plenty of souvenirs and clothing for everyone. There are over 50 vendors offering hundreds of handmade products, art, jewelry, Kona coffee, fresh flowers, koa wood, and clothing. This market is in a beautiful garden setting and is located on Ali'i drive two miles south of the Kailua Pier and is just across from some of the best Kona beaches . Alii Drive, Kailua-Kona (808) 334-1381. Open Wed - Sun 9:00AM - 5:00PM
Ahuena Heiau
This fully restored ancient heiau (temple) is located at the edge of Kamakahonu Beach, off of Ali'i Drive. The thatched building was the King's retreat, its doorway concealed by a small guardhouse where King Kamehameha could keep watch over Kailua Bay. The heiau consists of a stone wall, some other stones and a few modest grass buildings. Considered a Hawaiian holy site where sacrifice was made, no one can enter the building.
Hulihe'e Palace
Perched at the edge of Kailua Bay, on Alii Drive in Kailua - Kona, Hulihe'e Palace was the vacation residence of Hawaiian royalty. Today it is a museum operated by the Daughters of Hawai'i and is a showplace of beautiful furniture and fascinating artifacts.
Hulihe'e Palace Museum Hours
Open Tues through Sat 9:00 a.m. until 4:00 p.m.
Open Sun from 10:00 a.m. until 4:00 p.m.
(Plan on arriving by 3:30 p.m. to allow time to tour the Palace)
Mokuaikaua Church
This is the oldest and first founded Christian Church in the State of Hawaii, established in 1820. The Mokuaikaua Church was founded by missionaries who came from Boston Massachusetts on the brig Thaddeus. The land was given to the missionaries by King Kamehameha III. The original structure was made of thatch under the direction of Asa Thurston, one of the first missionaries.
Beaches on Ali'i Drive
You may think that you must travel up the Kohala Coast to go to the beach. However, there are several nice beaches along Ali'i Drive. There is a small strip of white sand at the edge of the sea wall in Kailua Bay, on the south side of the pier - the waters are clear and calm, this is a great place for small kids or adults who want to swim in the protected swim area. In the mornings you will find many fitness-minded persons swimming up and down the roped-off swimming area - this is the same area that the Ironman Triathlon swim event begins!
There are several other wonderful beaches on Ali'i Drive. On the north side of Kailua Pier is Kamakahonu Beach, right in front of the King Kam hotel. Further south down Ali'i Drive is Kona Magic Sands Beach, a small white-sand beach with nice body-boarding waves. Beyond that is Kahalu'u Beach Park a perfect family beach with some of the best snorkeling on the Island.