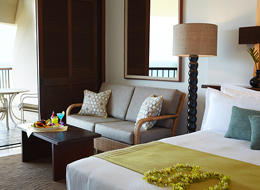 ICCFD7 will be held at the beautiful Mauna Lani Bay Hotel. Located on oceanfront property on the sunny Kohala Coast on the Island of Hawaii, this hotel offers some spectacular views of the mountains and ocean, along with an excellent facility to host this important international conference. We recommend placing reservations while the reduced conference rates are available. All advance reservation requests must be received by June 8, 2012. All reservations received after June 8, 2012 will be subject to space availability and the hotel's published rates.
You can reserve your discounted room in any of the following ways:
Questions regarding details of the group hotel reservations may be directed to Wayne Obina. Please note the hotel's terms and conditions and cancellation policy at the time of booking.
Please Note: The ICCFD7 group rate rooms are now sold out.
You may still contact the hotel directly to see if there are rooms available at prevailing rates. As a courtesy, the Hawaiian Visitor's Bureau provides a list of hotels and resorts along the Kohala coast.